What do you do with those ring dilly dally's from the orange juice or milk containers? I used to throw them away until I found one and played around with it thinking... this could be a ring. In fact, if I were 6 again, I would be gluing gems to them and prancing around the house dressed as a princess wearing my mom's high heels with a blankie tied around my waist. Well, I can't get away with that anymore....
maybe when I'm a bit older and senile I can...
but I can glue a yo-yo flower to it and make it a pincushion ring! Doesn't that sound like a fun idea! So here's a quick tutorial on making my Rosie Posie pincushion ring.
You will need some fabric scraps, thread, 30 mm yo-yo maker
and a 45 mm yo-yo maker and some batting.
First make a yo-yo using the 45 mm yo-yo maker....
Then make a yo-yo using the 30 mm yo-yo maker.
Before you sew it closed, stuff it with some batting.
Sew it to the '45 mm' yo-yo.
You've made a cute Rosie Posie!
Score the plastic disk of your plastic ring using the point of
a scissor or pin....
Hot glue your Rosie Posie to the disk.
Ta-da! A pincushion ring! Isn't it cute?
It even looks cute sitting in my thread basket!
I would like to make a bunch of these up for my next quilt retreat outing. They would make cute little gifts to give to my fellow quilters! Ok boys, start drinking up that milk and orange juice! I need a few more plastic thingies! I want to make about a dozen of these!
Happy quilting!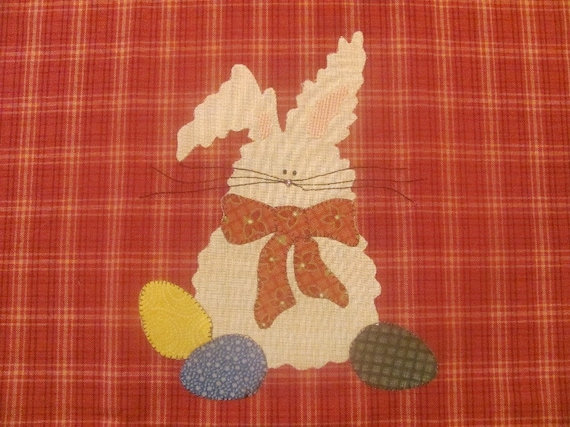 Fluffy Bunny #211
Do you have Spring Fever? I sure do.... here are some fun Spring Patterns from Quilt Doodle Designs.