Boys, boys, I have a house of all boys... so I picked a project to show you that is certainly boy-ish. First let me thank Madame Samm and Amy at Sew Incredibly Crazy. My boys used to play baseball and over the years we have seen plenty of games. So the quilt I'm showing you is my baseball quilt that I made Thomas.
I started out by making a rail fence quilt using 2" strips... I then added some borders.
To make the baseballs, I layered two squares of fabric right sides together and traced a circle using a bowl out of my pantry. I then trimmed a scant 1/4" seam and clipped the curves. Turned my circles inside out and ironed them. Then here's the fun part, I found a stitch on my sewing machine that looked like the stitching on a baseball. I sewed two half circles onto my circle and voila! A baseball. I made several baseballs and then appliqued them onto my quilt top.
I then quilted my quilt and 'wrote' the lyrics to 'Take Me Out To The Ballgame'.
I used variegated thread... isn't this boyish!
So as my giveaway for this boyish hop, I will giveaway a PDF pattern of my 'Wilson' doodlette. Many of you know, Wilson is my little furry boy. He keeps me company now that my boys are older. So leave a sweet comment for one chance to win and for a second chance, follow me too and let me know that you do! If you are a no-reply blogger, please remember to leave me a way to contact you.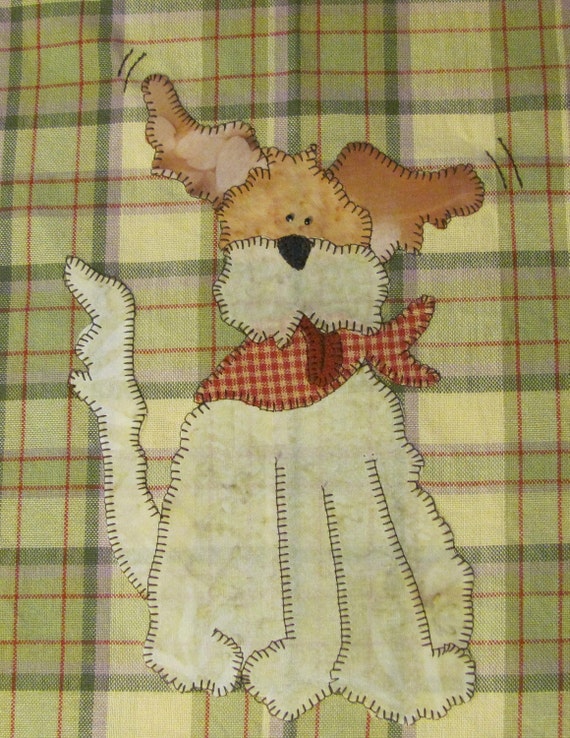 You could win a copy of this PDF pattern!
Happy Quilting,