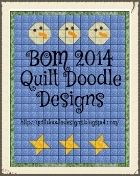 Add caption
H
a
ppy
New
Year
!
!
!
It's time to start the first section of the Quilt Doodle Block of the Month 2014! whoooo hoooo... Wilson is also prancing around with excitement! I'm so thrilled to show you the first section of this fun mystery quilt.
Many of you know, I live in Minnesota and it's winter here nine months out of the year, last year it felt longer since we had a huge May snowstorm, schools were closed and everything! So the first section we are going to do is a row of 'Chilly Silly Snowmen'.... They are so stinkin cute, and easy to sew together. Everything is based on 2 1/2" squares and strips. The snowman noses are appliqued, but don't worry, if you are a beginner to applique, you can do these. The pattern can be found Etsy

and also on

Craftsy

. So lets get started.... You will need the following fabric colors... blue (I'm using a darker blue fabric), cream/white, and orange (for the snowman noses). You will also need some Heat n Bond and brown or black thread for machine applique. I like to use dark brown.

Many of you have wondered what fabrics.... here's what I pulled
from my fabric stash. Notice most of it is tone on tone.
Following the pattern directions, I cut 2 1/2" squares
and 2 1/2" x 10 1/2" strips.
Layer a cream/white 2 1/2" square and a blue 2 1/2" square
right sides together and sew corner to corner. Repeat until you have
7 sets of 4.
Trim the excess leaving a 1/4" seam...
Iron, seam to the dark side....
Lay out your squares to form the snowman block.
Sew block together using a scant 1/4" seam.
Here is a snowman block next to the 2 1/2" x 10 1/2" strip...
Sew a strip to each section..
Sew the sections together making sure the long snowman
strip begins and ends with a 2 1/2" x 10 1/2" strip.
Trace 7 snowman noses onto the heat n bond and then
iron onto the wrong side of the orange fabric.
Cut the noses out
Your snowman noses can go all the same way...
Or willy nilly ~ every direction... iron them on.
I applique around the nose using my machines button hole stitch
using brown thread.
Snowman eyes.... hmmmmm...
you can sew on buttons, beads or embroider them using french knots.
It's up to you and what you prefer to do.
I think I'm going to use buttons...
Chilly Silly Snowmen ~ January's Block
Remember to post your finished Chilly Silly Snowmen strips onto the
Flickr
account for a chance to win the prize at the end of the month! If you blog about it, please
email me
a link so that I can attach it to the
Pinterest Board
I have going for the BOM 2014. I hope you have fun with this section of the mystery quilt. It can easily be done in a weekend. I'm looking forward to seeing everyone's snowmen! I'll be announcing the prize for this month's block around the 15th and the winner will be announced on February 1st, when the next section is out.
Happy Quilting,